He just popped in for a quick bite: Pierce Brosnan and Cecilie Thomsen cuddle up
It's 1997, the final year of Britpop, and Pierce Brosnan is back for his second appearance as James Bond. He's more muscular than in his debut two years earlier, and his hair is much more acceptable length.
The pre-titles sequence (PTS) of Tomorrow Never Dies sees the infamous Brozza pain faces plus an As Time Goes By Reunion. The PTS sets the tone for the rest of the film: machine guns all ablaze in mindless, generic 90s action. Roger Spottiswoode directs by numbers, but his artsy shots of Elliot Carver's glasses are impressive (clutching at straws?). Jonathan Pryce is clearly having fun with the role. 
It's quite a blueprint Bond plot: a megalomanic with a bulky henchman intent on world domination and starting a war. Yet Mr Stamper is nothing more than a poor man's Red Grant.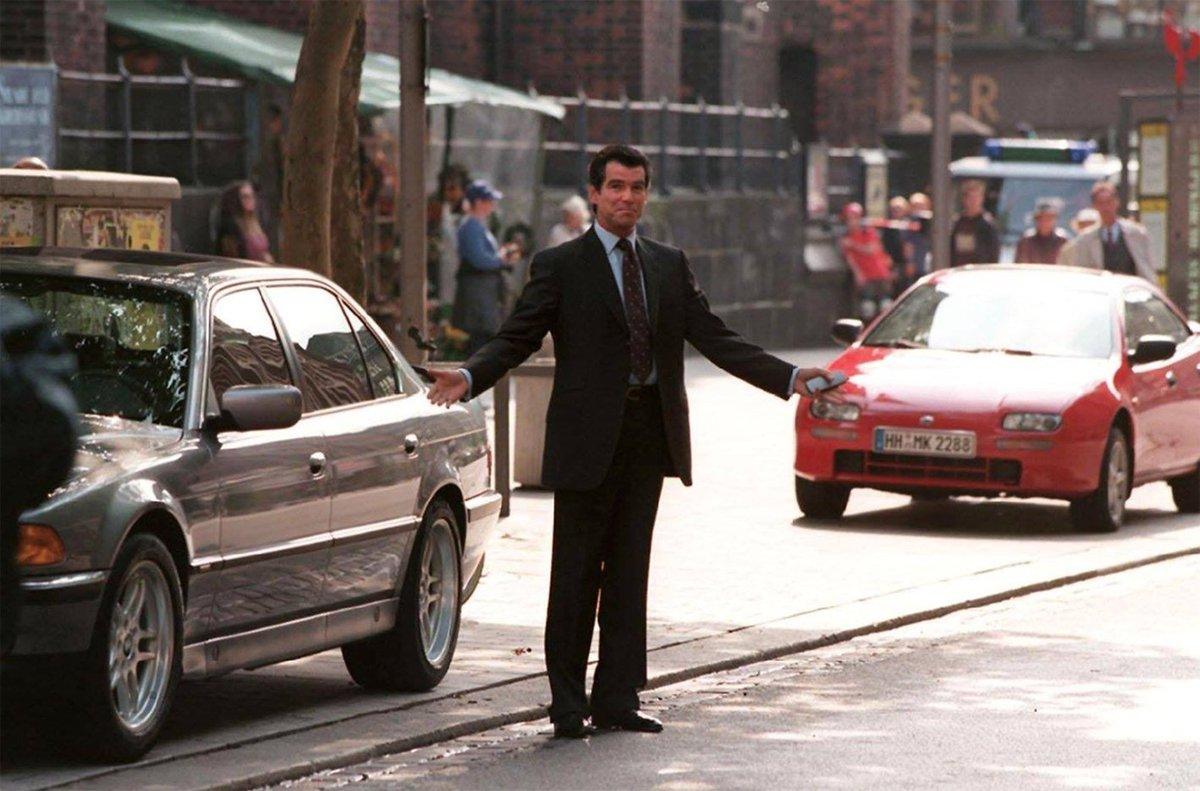 Sheryl Crowe churns out a middle-of-the-road song at the height of her popularity, and it all gets cheesy quickly. The filmmakers play to Pierce's strengths (if you can call them that). We see him suavely rolling around in bed with and biting great Dane, rolling out all the smooth lines. Cecilie Thomsen was on the same '90s blonde bombshell level as Jo Guest, Caprice, and Victoria Silvstedt. 
Dear old Desmond Llewelyn gets an amusing scene and lines, but he's too old to be gadgets chief at MI6. Teri Hatcher, off the back of The New Adventures of Superman, isn't really up to the job. 
The chemistry between her Paris Carver and Pierce Brosnan's Bond — supposedly former lovers is zero. Still, Brozza gets another shoulder bite in. Apparently, Teri and Pierce didn't get on. Legend has it Pierce didn't take kindly to her often being late to set after morning sickness. She was pregnant at the time. 
Although some fun comic relief for some, Dr. Kaufman has no place in a Bond film. Michelle Yeoh plays Wai Lin plays the part of Bond's equal. Although Carver mocking her martial arts movements and noises is probably something you couldn't get away with these days. The interactions between Bond and Wai Lin mainly consist of corny jokes, and the pair are so flat. Joe Don Baker as Jack Wade is simply annoying. 
Everything about Tomorrow Never Dies is either average or holds water at the very most. But the Pierce Brosnan reign is about to get even worse. 
Copyright © 2023 J W Emery Ltd. All rights reserved.