"Now it's time to say goodnight. Goodnight; sleep tight": Big Ron in A View to a Kill
Watching Roger Moore in A View to a Kill is a tough pill to swallow. Not only does he look too old, but also a little odd. He's had a nip and tuck since Octopussy. His hair is heavily lacquered, and his eyes look crazy — still unexplained.
I feel bad saying that about dear old Sir Roge. Although he was always the first to laugh about how he became too old to play the role with any credibility. I'm sure he'd still laugh if he were here today.
The pre-titles sequence has its The Man with the Golden Gun slide whistle moment. This time, it's in the guise of Gidea Park's cheesy cover of The Beach Boys' California Girls. Well, it makes me smile. Bond finds Miss World 1977, Mary Stävin, waiting for him in a submarine disguised as an iceberg. Roge unzips her snow jacket, and getting off with ladies more than young enough to be his daughter begins.
Bond stalwart Maurice Binder is back with a more imaginative title sequence than his lacklustre effort for Octopussy. Duran Duran does the honours for the title song, and it's a corker.
One of the most jarring things about A View to a Kill is not just Roger's age. It's also the age of the entire MI6 outfit against the energetic youthfulness of Christopher Walken as Max Zorin and Grace Jones as May Day. The trip to Ascot could be mistaken for an old people's home day trip to the races. 
Bond heads over to the Eiffel Tower to meet Achille Aubergine. Believe it or not, the detective was played by a Frenchman, Jean Rougerie — not a non-Frenchman doing a ridiculously over-the-top French accent. There's a great moment when Bond senses danger and eyes up a performing artist flying butterflies. Bond's hunch was correct. Aubergine feels incredibly smug with himself — "I, Achille Aubergine, intend to find out" — before he gets a fly in his soup.
Bond steals the taxi of another French character. This time, it's Lucien Jérôme's turn to ham up the Frenchness. The inclusion of stunt doubles has never been so apparent in the series as in A View to a Kill.
Jenny Flex, played by Alison Doody, then 17, greets Bond, played by Roger Moore, then 57. That doesn't stop randy old Sir Roge as he makes wisecracks: "I'm an early riser myself" (he meant his morning erection). Bond playing with Tibbett, played by Patrick McNee, is marvellous. There's great chemistry between the two stalwarts of British TV and film.
We're introduced to the brash Bob Conley, the slimy Scarpine and the mad former Nazi scientist Dr Carl Mortner. We learn more about May Day and the truly psychotic Max Zorin. Roger Moore is excellent in snarling with disdain at Walken's Zorin throughout the film.
Dr. Mortner serving Adolf Hitler during WWII is a terrific backstory. The geneticist carried out hormonal experiments on pregnant women in concentration camps. Most of his experiments failed, causing the majority of mothers to miscarry. A few babies born were of gifted intelligence — but also psychosis. One was Max Zorin, who Mortner took into special care as his adopted child.
The warehouse fight is probably the weakest fisticuffs in the series. It's hard to believe John Glen — a master in editing — let this one slip. Watch out for when Eastenders' 'Big Ron' lies down on the conveyor belt as if he is settling down for a long winter's nap.
I'm unsure whose idea it was to dress a  57-year-old Sir Roge in a velour tracksuit with black trainers and a loose-fitting gold watch. 007 should never wear a tracksuit — unless he's in the gym. See: Never Say Never Again and Skyfall. Those films got it right.
Much has been said about Tanya Roberts as Stacey Sutton — with her screaming and yelling to boot. While she was picked for her looks rather than acting chops, her performance just about holds water.
Bond bakes a quiche and nods off in a rocking chair. A Police Academy-inspired comedy cop car chase through the streets of San Fransisco.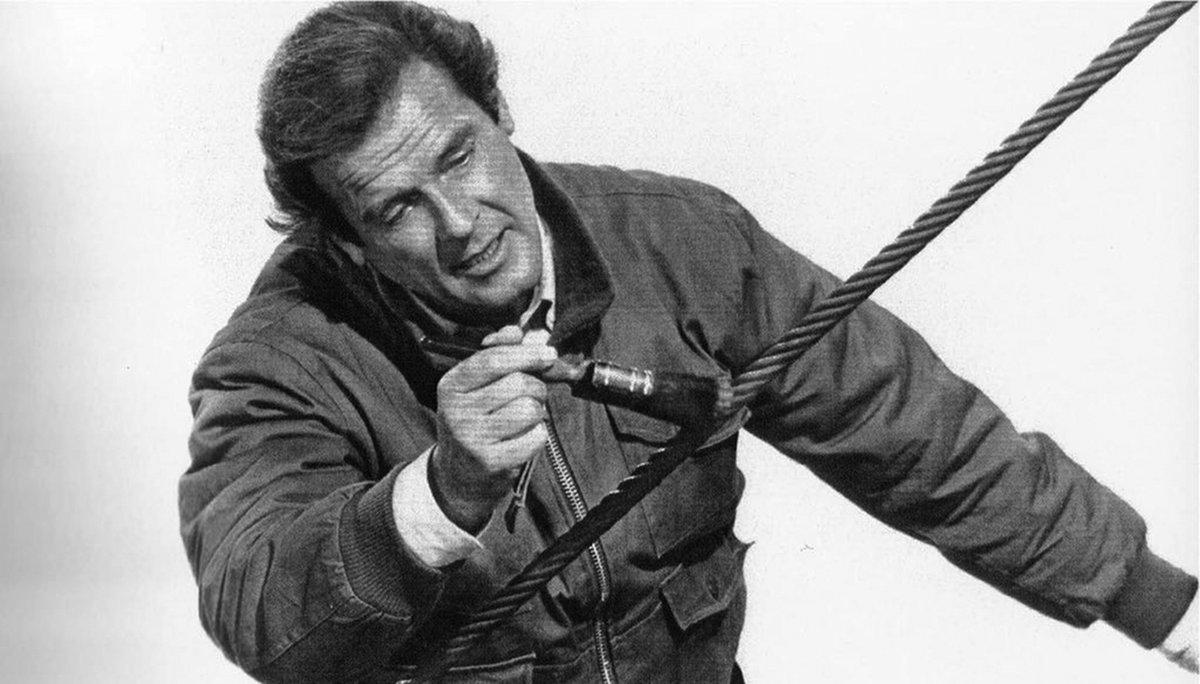 Roger Moore later criticised the mine massacre. I think Zorin, laughing and chattering his teeth while gunning down his men, is one of the highlights of the series. Walken is terrific and electrifies the screen. The crazed laugh as he loses his grip on the Golden Gate Bridge is worth the entrance fee alone.
The bridge battle is a terrific climax, and John Barry's guitar licks complement it beautifully. Barry's orchestral renditions of the theme song are also excellent. It's a shame all versions heard haven't made their way onto a remastered and extended album. 
Doddery old Roge ends up in the shower with Tanya Roberts, claiming, "That's not the soap" she's grabbed. He's talking about his cock again.
A View to a Kill slightly stained Roger Moore's fantastic reign as 007. Cubby Broccoli should have had the balls to get Timothy Dalton in earlier. Maybe it should've been a story of Bond's impending retirement with references to 007's advancing years. But it's still an enjoyable 80s romp.
Copyright © 2020 J W Emery Ltd. All rights reserved.