Just when he thought he was out, they pulled him back in: Pierce Brosnan signs up for Bond in 1986 before NBC chief Brandon Tartikoff had a change of heart
"I have no desire to watch myself as James Bond because it's just never good enough. It's a horrible feeling" — Pierce Brosnan, 2014
I have no desire to watch him as James Bond either because, as he said, his Bond was never good enough.
For all of Pierce Brosnan's appeal to the masses, I consider his characterisation of Bond to be a commercial success but an artistic failure. He was a crowd-pleaser. After the darkness of Dalton and the six-year gap between Bond films, Brosnan played it how the audiences wanted it — the 'greatest hits' package — a bucketful of Moore, a ladleful of Connery, with the slightest sprinkling of Dalton.
In 1986, Brosnan was signed up to replace an ageing Roger Moore as James Bond in The Living Daylights. Contrary to popular belief, Timothy Dalton was Bond producer Cubby Broccoli's first choice to play 007 in Daylights, not Pierce Brosnan. Broccoli had Dalton in his sights ever since the 1960s.
Dalton was busy filming Brenda Starr; Brosnan was signed; Brosnan was then pulled back into Remington Steele (thank you, Brandon Tartikoff); Dalton became available again.
Brosnan was devastated; I feel elated. I consider The Living Daylights to be one of the finest films in the series, with a superb performance by Dalton. I wouldn't have wanted it any other way, especially not with Bond in the guise of Pierce Brosnan, who would have been painfully out of his depth.
The Irishman got his chance again in 1995: GoldenEye. The six-year wait for a Bond film was over. Brosnan's performance in GoldenEye holds water, but it just doesn't excite me — I find him flat and somewhat bland.
With the chance to play Bond also came the opportunity to do something different and reinvent the role, just as Roger Moore and Timothy Dalton had done before him and just as Daniel Craig has done since. Hell, even George Lazenby made the role his own, and he wasn't even an actor. Brosnan didn't seem to have the balls and talent to do so and played it safe.
"I felt caught in a time warp between Roger and Sean," said Brosnan. This begs the question: 'Why didn't he put his identity on the role?' Was pleasing the crowds more important to him than creating a unique characterisation of James Bond, which will be remembered in years to come?
It's frustrating because as much as I criticise Brosnan's acting ability, he has shown promise in other films, see: The November Man (2014) and The Foreigner (2017). Yet he struggles in the Bond scenes requiring some substance; see: the confrontations with Elektra King and M in The World Is Not Enough and Die Another Day, respectively.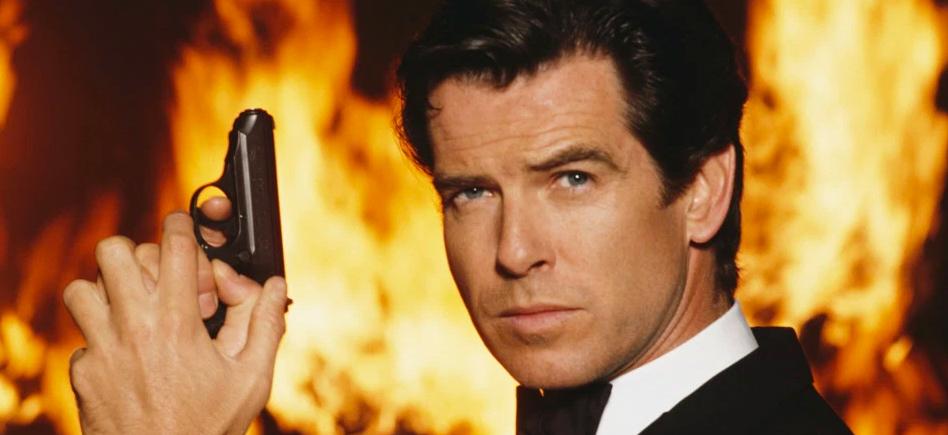 In 1997, Brosnan was back as Bond in Tomorrow Never Dies and in better shape; he was more muscular and had hair at a much more acceptable length. With his second film came an increase in his confidence in the role, but unfortunately, also an increase in smugness, smarminess and cockiness. Pierce Brosnan's Bond was smug, smarmy and cocky in a way Sean Connery's and Roger Moore's Bonds never were.
It was pretty clear in which direction Brosnan wanted to take the role: Roger Connery. Whereas Roger Moore was effortlessly suave and oozed charm, Brosnan didn't. His portrayal of Bond became forced and contrived. He tries too hard. His desperate attempts to be as cool as these two giants of Bond often descended into parody. In the pre-titles 'Swiss banker' sequence from The World Is Not Enough, Brosnan's impersonations of Connery and Moore are nauseating.
He was often guilty of overacting, and his much-maligned "pain faces" look increasingly ridiculous with each viewing, as does his constant pouting, frowning and squinting. I've seen his bottom row of teeth more than my own, and I brush thrice daily.
People say he had lousy scripts and directors, and this is true. Yet his films were tailored for his portrayal of Bond, just like they were for Roger Moore, Timothy Dalton and Daniel Craig. By the time of his fourth and final Bond film in 2002, Die Another Day, Bond had lost its way and all credibility. Had Brosnan taken the role by the scruff of the neck from the outset, then maybe we wouldn't have been subjected to this monstrosity of a film in quite the same way.
Roger Moore also had some lousy scripts, but he could elevate them. Roger Moore could have read the phone directory out loud and made it sound amazing, whereas Pierce Brosnan could take something amazing and make it seem like the phone directory.
Copyright © 2018 J W Emery Ltd. All rights reserved.